RetailNOW 2016
RetailNOW® 2016 | July 31, 2016 – August 3, 2016
RetailNOW® is one of RSPA's signature events. Billed as "the place where the industry meets" you'll have access to live education, motivational speakers, 170+ exhibitors and networking galore. Click Here to register!

---
With the exception of the Social Pass, all attendees must be employees of their registering company.
Reseller Members
If registering 5 or more employees group pricing will apply. Contact Membership@GoRSPA.org for more information.
Non-Members*
Applies to Resellers and Vendors who do not possess an RSPA Membership. Non-members who join by 8/31/16, will be refunded the difference between member and non-member registration rates.
Social Pass
This pass allows a member attendee to bring a spouse or significant other to the social events of RetailNOW.
Expo Pass
This pass allows a reseller attendee access to the Expo Hall on Tuesday Only.
First Time Attendee – Money Back Guarantee
Are you a reseller considering attending RetailNOW for the first time? Need a bit more assurance that this is a good return on investment? We are so convinced you will find it valuable, that we'll guarantee it! If you are not fully satisfied with our conference we will refund the price of your attendee registration. Contact Membership at 800.782.2693 for details.
---
Please Note: Badge cancellations, refunds and changes will not be permitted after 5 pm EST on July 15, 2016. Attendees MUST wear badges at all times to gain access to RetailNOW® events. ALL badges will be available for pickup on-site; no badges will be mailed prior to the event.  On-site badge name changes are $25. No children under the age of 18 will be allowed in the Expo Hall. This is an industry show – end users are not permitted.
Agenda
Expo Hall
Click Image to Enlarge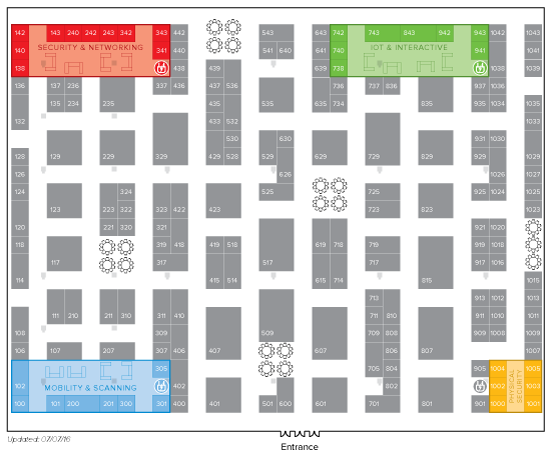 For a list of Featured RetailNOW 2016 Exhibitors, click here.
Hall Hours
Mon, Aug. 1 / 4-8pm
(Includes First Look Reception )
Tue, Aug. 2 / 12-5pm
(Includes Lunch)
2016 Exhibitors (as of 07.07.16)
Agilysys

Aldelo, LP

AnywhereCommerce

Ascentium Capital

ASI/Restaurant Manager

Aures Technologies, Inc.

Auto-Star Compusystems, Inc.

Avero, Inc.

Basys Processing

BridgePay Network Solutions

Brother Mobile Solutions

CAP Software

Card Marketing Services

CardFlight

Cardknox Development, Inc.

CAS Corporation

Casio America, Inc.

Castles Technology International Corp

CHERRY, ZF Electronics

CipherLab

Citixsys Americas, Inc.

Citizens Systems America Corporation

COCARD

Code

Cognitive TPG

ConnectWise

Control Plus GL

CRS (Cash Register Sales, Inc.)

Cybertill

Datalogic

Datasym POS, Inc.

Denso ADC

Detecto Scale

Dovetail Systems, Inc.

DUALi, Inc.

ECi e-automate

Elavon

Eleos Web PTE Ltd.

Elo Touch Solutions

eMobilePOS

Equinox Payments, LLC

Equus Computer Systems

Evo Payments International

Firich USA, Inc.

Focus POS Systems

Gainscha International Co., Ltd

GIGA-TMS, Inc.

Global Payments

Glory Global Solutions, Inc.

Godex International

Gvision, Inc. USA

Handpoint

Hewlett-Packard Company

Hillside Electronics Corporation

ID Tech

IEI Technology USA Corp

Infinite Peripherals, Inc.

InfoTouch Corporation

Ingenico

Ingram Micro Data Capture/POS Division

Intuit, Inc.

iRuggy Systems Co, Ltd.

iSAPPOS Systems Company Ltd

Jolimark Printing Solution (Hong Kong) Ltd

Kilotech, Inc.

Lavu, Inc.

LCSI/Berg Company

LOC Software

Logivision

MagTek, Inc.

Main Street Softworks

Merchants' Choice Payments Solutions of Florida

Metropolitan Sales Company

Minuteman Power Technologies

MMF POS

MobileBytes

M-S Cash Drawer, LLC

NAB Velocity

National Merchants Association

NCC (National Computer Corporation)

NCR Corporation

Netop

Netsurion

Omniprint, Inc.

Oracle Hospitality

OrderCounter POS & SaaS Solutions

Panasonic

Paper Rolls Now

PAR

Partner Tech

PAX Technology, Inc.

Payment Logistics Limited

Pioneer POS Solution, Inc.

Poindus America Corporation

POS Portal

POSBANK USA, Inc.

POSDATA

Posiflex

POS-X

PowerVar

ProTech Technologies, Inc.

Ready Distribution

Restaurant Data Concepts, Inc.

Rocket POS

Rongta USA, Inc.

RPOWER Restaurant POS

RTT Digital Signage

Seiko Instruments

Smart Power Systems, Inc.

SoftTouch, LLC

SOTI

SpacePole, Inc.

Specialized Business Solutions

Stoplift Checkout Vision Systems

Super G Funding

Tailwind Solutions

TCPOS North America, Inc.

TeamSable POS

TG3 Electronics

Tigerpaw Software

Toast, Inc.

Touch Dynamic, Inc.

TranSend

TransFirst, LLC

Tri-Technical Systems, Inc.

Trustwave

UIC USA

Unitech America, Inc.

Vanguard ID Systems

Velociti, Inc.

Vend Lease Co., Inc.

Verifone, Inc.

Vigilix, LLC

VISA

Witek System, Inc.

Worldpay US, Inc.

X2nSAT

Xiamen Hanin Electronic Technology Co., Ltd.

Xiamen Maken Tech Company, Ltd.

Yellow Dog Software

Zebra Technologies

Zuppler
Hotel Information
RSPA works directly with Gaylord Texan Resort & Convention Center in Grapevine to provide RetailNOW attendees with the best rates and services for housing. Please be advised that, while other companies may contact you offering housing for RetailNOW, they are in no way endorsed by or affiliated with RSPA or RetailNOW. Any communications, (electronic, verbal and/or print) regarding housing for RetailNOW will come to you directly from RSPA. If you receive any questionable communications regarding housing for RetailNOW, don't hesitate to contact us at RetailNOW@GoRSPA.org to verify their legitimacy.
Should you need to book outside of the Gaylord, below is a list of overflow options located within 5-10 minutes:
• Embassy Suites Dallas DFW Airport North, 972-724-2600, 2401 Bass Pro Drive, Grapevine, TX
• Courtyard Dallas DFW Airport North, 817-251-9095, 2200 Bass Pro Drive, Grapevine, TX
• TownePlace Suites Dallas DFW Airport North, 817-421-6121, 2200 Bass Pro Drive, Grapevine, TX
• Hyatt Place, 972-691-1199, 2220 W Grapevine Mills Circle, Grapevine, TX
• Hilton DFW Lakes, 817-481-8444, 1800 TX-26, Grapevine, TX
Hotel Transportation:
Gaylord Texan Resort will provide shared transportation services to DFW Airport every 30 minutes (at every hour and half hour) between 5:00am – 2:00pm* daily. The fee is $15 per person. Please note this does not include transportation from DFW Airport to the resort. To take this service, please see the transportation podium, located on the front drive of the hotel entrance. Shared-Ride service is available on a first-come, first-serve basis, and reservations cannot be made in advance. *On Wednesday, August 3, 2016, the hotel will be offering this service from 5 AM – 3 PM.
Gaylord Texan Resort & Convention Center

Book Now
Resources